About Kringom
We wish you a pleasant journey with Kringom in Sogn og Fjordane!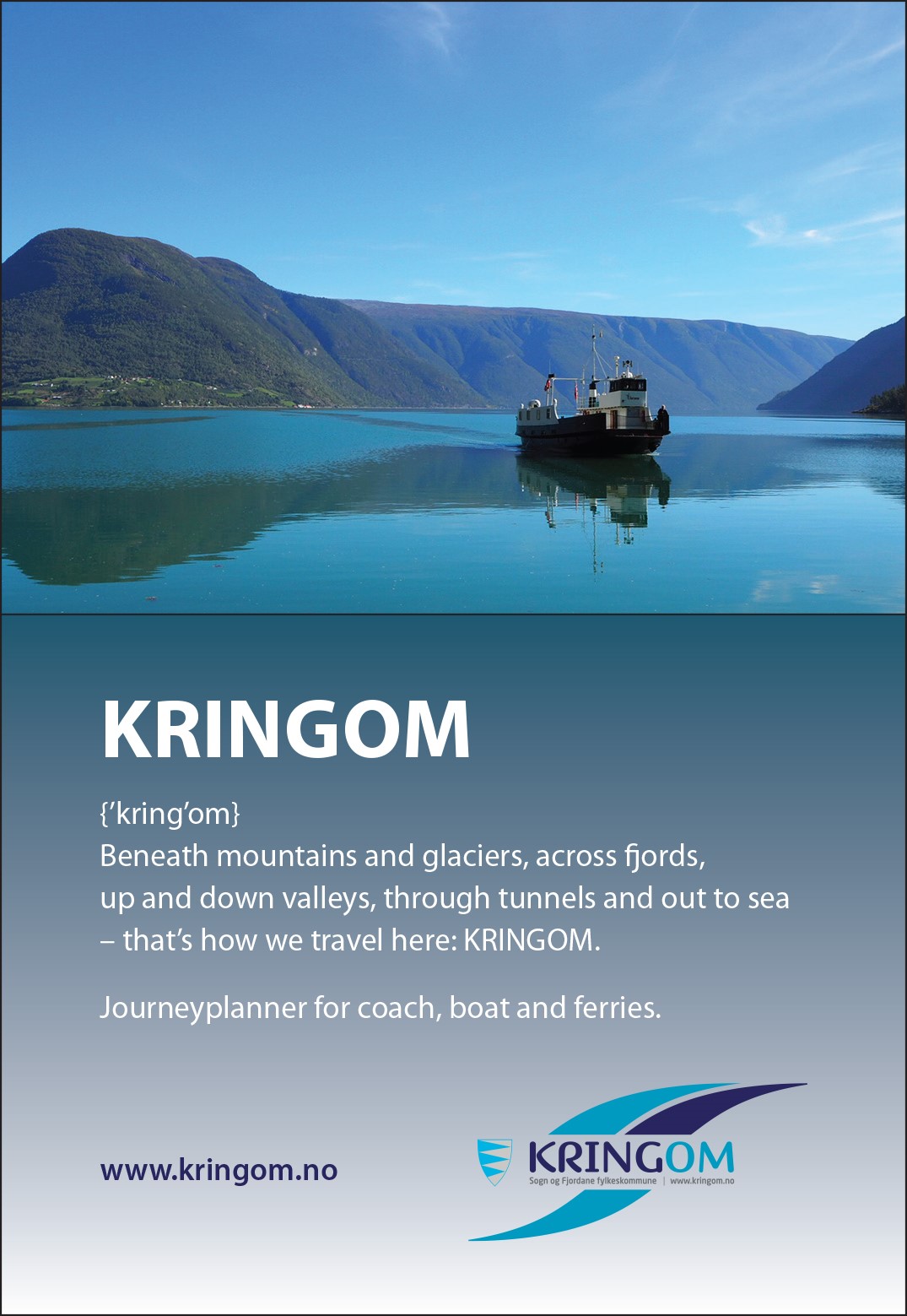 The Norwegian word Kringom means back and forth, here and there, out and about.
And this is how we travel in the county of Sogn og Fjordane – under mountains and glaciers, over fjords, up and down valleys, through tunnels, into misty mountains and out towards the sea.
In Sogn og Fjordane Kringom is the name used for all public transport facilities offered by Sogn og Fjordane County Municipality: services by boat, ferry and bus throughout Nordfjord, Sunnfjord and Sogn.
On www.kringom.no you will find a travel planner, and information about departure times, tickets, prices, discounts and travel passes. Each spring a complete printed copy of all time tables in the county is sent to all households in Sogn og Fjordane.
If you do not find the information you need, please contact us at kringom@sfj.no or call the information hotline on +47 177.
Organisation

The department for transport in Sogn og Fjordane County Municipality runs Kringom. We plan, order and coordinate the public transportation system within the county. Various public transportation companies run services on behalf of the County Municipality.
All public transportation is exposed to competition in accordance with EU regulations. Competitive tendering for public transportation in Nordfjord was carried out in 2014, in Sunnfjord in 2016, and in Sogn in 2017. New competitive tenderings for contracts can be found on www.doffin.no.
In 2017 Sogn og Fjordane County Municipality has contracts with the following public transportation companies:
• Firda Billag Buss AS
• Fjord1 AS
• Nettbuss Sør AS
• Norled AS
• Tide Buss AS
• Wergeland AS
Contact information to the various public transportation companies.